SenSlip
Jump to navigation
Jump to search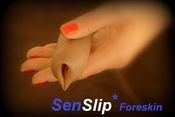 SenSlip
Viafin-Atlas offers SenSlip, a "foreskin substitute" to help protect and regain the sensitivity of the glans. SenSlip is offered for men who are not willing to undergo non-surgical foreskin restoration but wish to increase the sensitivity of their glans.
The product comes in packs of 4 units, is offered 10 colors and different sizes (based on the girth) and is meant to be used daily during waking time.
Viafin-Atlas created this detailed video about the anatomy and function of the normal foreskin.
External links