Bloodstained Men
Jump to navigation
Jump to search
Bloodstained Men & Their Friends is a 501(c)(3) nonprofit intactivists organization which aims at protesting against the forced circumcision of children, wherever it occurs in the world.
Board of Directors
They organize many street campaign events throughout the whole year, mainly in the USA.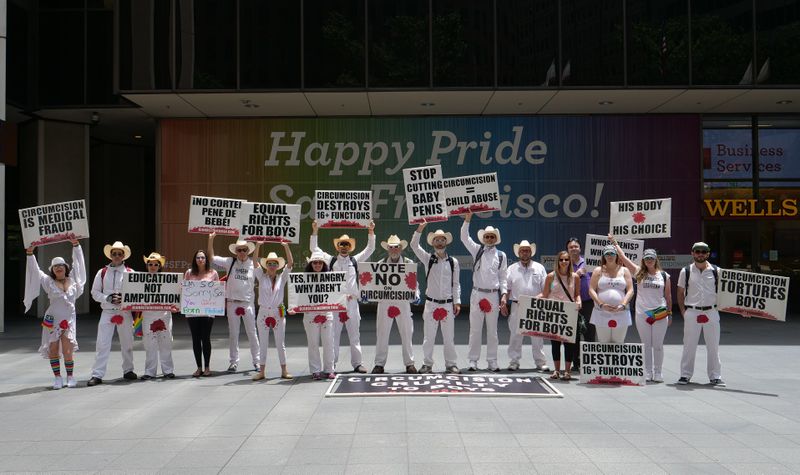 Bloodstained Men use to wear the Bloodstained suit since Jonathon Conte introduced it to America at the 2012 American Academy of Pediatrics convention in New Orleans. It was created and worn firstly in public by Richard Duncker during a Men Do Complain protest in London, England. The bloodstain reminds people that what is done to the child (genital cutting) also affects the adult that child becomes.
Who can wear the Bloodstain?
" The Bloodstained Man suit is for everyone, cut men and intact men, cut women and intact women, and anyone who has felt the negative fallout of both circumcision and a cutting culture in some way. Whether the wearer of the suit has experienced direct or indirect harm to their physical being and/or soul, the outfit represents the stain that American doctors have inflicted upon our nation. "
– Brian Herrity
Schedule
Next events
Current events
Previous events:
Bloodstained Men's 2019 Heartland Circumcision Crisis Protests
External links