Informed consent
Jump to navigation
Jump to search
Construction Site
This article is work in progress and not yet part of the free encyclopedia IntactiWiki.
For some reason this information is not making it to parents. Studies have shown that doctors provide parents with almost no accurate or useful information about circumcision. One study showed that 40% of parents believed that their doctors failed to provide enough information, 46% reported that their doctors failed to give them any medical information at all, and 82.8% of parents regretted their decision they made within the first six months of their son's life. [1] Another study found that physicians were less likely to circumcise their own sons. [2] This suggests that doctors are very well aware that circumcision is a non-therapeutic surgery (in short, a ritual); but they do not appear to share this knowledge with parents. A busy physician can supplement their income by as much as $60,000 per year from circumcision surgeries alone. [3] This incentive can cloud a physician's judgment when it comes to providing parents with information about circumcision.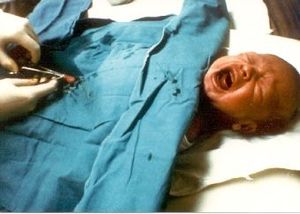 Many parents are surprised to hear that anesthetics are used in only a minority of cases. [4] The use of local anesthetics significantly drives up the costs of surgery. When anesthetics are used, they can only reduce the pain. Infants can not be given general anesthesia because of the medical risks involved. In the recent past, anesthesia was rarely used, if ever. Because of this, circumcision has always been an extremely traumatizing experience causing an array of short and long term behavioral and developmental problems [5] [6] [7] [8] [9] [10] [11] [12] [13] [14] [15] , including altered perceptions of pain [16] [17] [18] , post traumatic stress disorder (PTSD) [19] [20] [21] [22] , and a possibly of adult self destructive behavior. [23] [24] [25] Many circumcised men, some of whom are doctors, experience a strong denial of loss which in turn fuels an emotional compulsion to repeat the trauma to normalize their loss. [26] [27] [28] [29] [30]
References