Circumcision Exposed: Rethinking a Medical and Cultural Tradition
Jump to navigation
Jump to search
Book Data

| | |
| --- | --- |
| Title | Circumcision Exposed |
| Subtitle | Rethinking a Medical and Cultural Tradition |
| Author | Billy Ray Boyd |
| Pages | 174 |
| First Edition | May 1, 1998 |
| Publisher | Crossing Press |
| ISBN | 978-0895949394 |
Circumcision Exposed - Rethinking a Medical and Cultural Tradition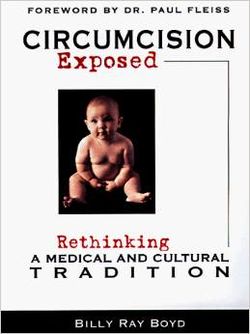 An emotionally literate, culturally sensitive, yet fearless exploration of why the United States is the only country in the world to circumcise a majority of its baby boys for supposedly medical reasons. Includes various aspects of the practice, including its impact on sexuality.
Review
"
Excellent--the right mixture of personal, scientific, and political.


– Jed Diamond, author

(The Warrior's Journey Home: Healing Men's Addictions, Healing the Planet)
"
Thoroughly researched, compelling, expressed with fervor but in no way a diatribe


– Ed Duvin, former editor

(animalines)
| | |
| --- | --- |
| " | [D]isplays particular sensitivity to issues of religion, health, sexuality and parental and infant rights. (Sexuality Library, San Francisco) |
About the Author
Billy Ray Boyd has been active for well over a decade in the movement to end routine infant circumcision. He teaches at City College of San Francisco.

External links