Iris Fudge
Jump to navigation
Jump to search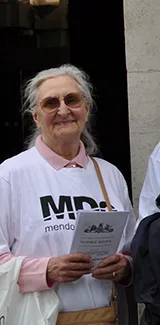 Iris Fudge (1927 – 2019) was a British nurse, intactivist and associate of John Warren.
Iris attended many demonstrations of Men Do Complain, being consistently polite, forceful and informative in her interactions with the public.[1]
Video
In 2012, she was interviewed by James Loewen.
Why Would Anybody Want to do That to a Child's Body?
See also
References
↑ Duncker, Richard (26 November 2012). Iris Fudge, Men Do Complain. Retrieved 6 August 2022.