John V. Geisheker
Jump to navigation
Jump to search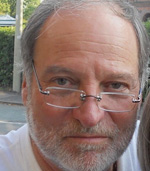 John V. Geisheker, JD, LL.M, a native of New Zealand, is Executive Director and General Counsel of Doctors Opposing Circumcision (D.O.C.). He has assisted over 1200 families whose child was injured by forcible foreskin retraction and has published several articles[1] on this widespread problem. John is very proud that, in the 1960s, his native land fully abandoned 'medicalized' infant circumcision.[2] He is also member of the Board of Directors[3] at Your Whole Baby.
Videos
Amicus curiae briefs
See also
External links
References
↑ https://www.psychologytoday.com/blog/moral-landscapes/201110/what-is-the-greatest-danger-uncircumcised-boy
↑ (2019). Board of Directors and Advisors, D.O.C.. Retrieved 18 September 2019.
↑ Your Whole Baby - Board of Directors. Retrieved 29 October 2019.