Sonja Fatma Bläser
Jump to navigation
Jump to search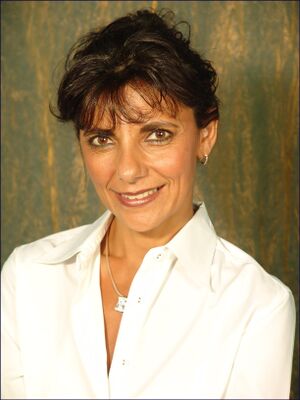 Sonja Fatma Bläser} (born 1964 in Kars, Eastern Anatolia, Turkey) has been born into a Kurdish family who emigrated to Germany in 1973. She resisted a forced marriage and subsequently escaped two assassinations. With her association HennaMond she campaigns against violence in the name of Islam in schools.[1]
She spoke against genital mutilation at the WWDOGA 2018 and 2020.
Awards
Ludwig Beck Prize for civil courage from the state capital Wiesbaden
Federal Cross of Merit on ribbon[2]
See also
External links
References
↑ (16 April 2018). Frauenrechtlerin über das Kopftuch: "Die Mädchen wollen das nicht" [Women's rights activist on the headscarf: "The girls don't want that"] (German), taz. Retrieved 2 February 2021.
↑ (14 February 2013). Bundesverdienstkreuz für drei Leverkusener [Federal Cross of Merit for three people from Leverkusen] (German), Stadt Leverkusen. Retrieved 2 February 2021.