Worldwide Day of Genital Autonomy
Jump to navigation
Jump to search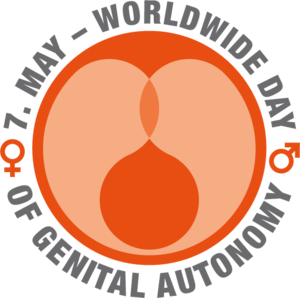 The Worldwide Day of Genital Autonomy (WWDOGA) is a campaign day for the genital autonomy of children which has been initiated by the German "Facharbeitskreis Beschneidungsbetroffener im MOGiS e.V.". Since 2013, it is celebrated on each 7th of May. This date has been chosen because on May 7th, 2012, the District Court of Cologne (Germany) has judged for the first time in Germany, that the circumcision of male children is an assault.
The aim of the WWDOGA is to propagate the right of bodily integrity and sexual self-determination for all children all over the world.
In 2019, the central German event for WWDOGA in Cologne did not take place for the first time on 7 May itself, but on the following Saturday, 11 May. The organizers were able to meet the wishes of many people who had little opportunity to take part in demonstrations during the week. The participation was correspondingly higher.
In 2020, the German WWDOGA event in Cologne, which was to take place again on the Saturday following WWDOGA, was canceled due to the corona crisis.[1] For this reason, MOGiS e.V. has posted video messages of the intended speakers online on its YouTube channel.[2]
Accompanying Events
2020
2019
Germany

Kick-off event of the one-year awareness campaign "My body - intact and self-determined", Berlin.[4]

Israel

Israeli intact activists demonstrate against children against MGM.

Kenya

First demo of Kenyan Intactivists at the Okalo Market in Matunga, Kakamega County.

Norway

Event "Bodily integrity and genital autonomy" in Turku, organized by JÅ - Intresseföreningen för jämställdhet vid ÅA.

USA
2018
Germany
Israel

Israelic intactivists celebrated a "Conciousness Day Circumcision" for the first time on this day.

USA
2017
Germany

The WWDOGA in Germany was introduced by a press conference in Berlin on May 4th, and closed by a symposium Jungenbeschneidung in Deutschland - eine Bestandsaufnahme (Circumcision on boys in Germany - an inventory) at the university Düsseldorf on May 8th.

USA
2016
2015
In Germany, the WWDOGA was followed by a "Genital Autonomy" conference in the Haus der Jugend (Youth Hostel) in Frankfurt/Main.
2014
In Germany, a Scientific Symposium took place one day earlier in Cologne, being organized by MOGiS e.V. and pro familia NRW.
List of Speakers at the WWDOGA in Cologne
2020
The speeches on WWDOGA 2020 were not held live in Cologne because of the Corona Pandemic 2020, but were shared via video message in the YouTube channel by MOGiS e.V., with Victor Schiering from MOGiS e.V. having three messages:
2019
2018
2017
2016
2015
2014
2013
Supporting Organizations
Africa
Australia
Canada
Denmark
Finland
France
Germany
Iceland
Iran
Israel
Kenya
Netherlands
Norway
Sweden
Switzerland
Uganda
UK
USA
External links
References