Bloodstained Men
Jump to navigation
Jump to search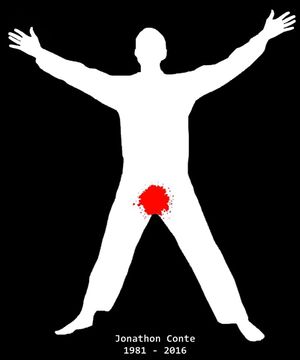 Bloodstained Men & Their Friends is a 501(c)(3) nonprofit intactivists organization which aims at protesting against the forced circumcision of children, wherever it occurs in the world.
Board of Directors
They organize many street campaign events throughout the whole year, mainly in the USA.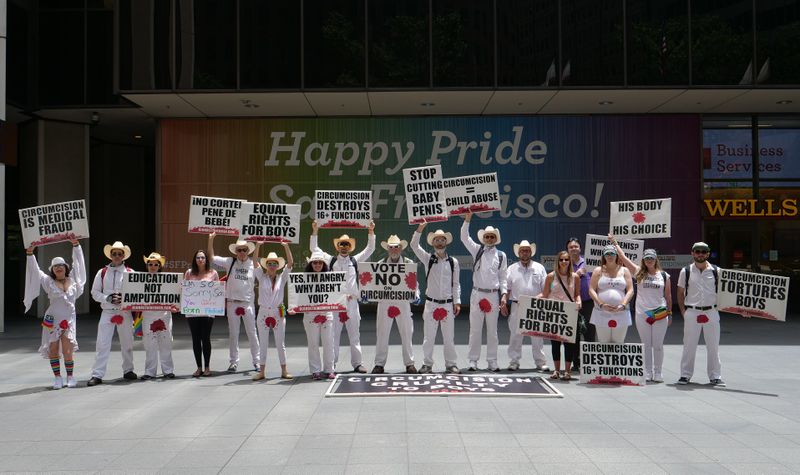 Bloodstained Men use to wear the Bloodstained suit since Jonathon Conte introduced it to America at the 2012 American Academy of Pediatrics convention in New Orleans. It was created and worn firstly in public by Richard Duncker during a Men Do Complain protest in London, England. The bloodstain reminds people that what is done to the child (genital cutting) also affects the adult that child becomes.
Who can wear the Bloodstain?
"
The Bloodstained Man suit is for everyone, cut men and intact men, cut women and intact women, and anyone who has felt the negative fallout of both circumcision and a cutting culture in some way. Whether the wearer of the suit has experienced direct or indirect harm to their physical being and/or soul, the outfit represents the stain that American doctors have inflicted upon our nation.
– (Anonymous)
Schedule
The following lists of events are just a selection and make no claim to completeness.
Next events
Current events
2021
Previous events
2020
The following events have been cancelled due to the Corona pandemic!
14 July 2020: Detroit, MI
15 July 2020: Windsor, ON
16 July 2020: London, ON
17 July 2020: Kitchener, ON
18 July 2020: Hamilton, ON
19 July 2020: Niagara Falls, ON
20 July 2020: Mississauga, ON
21 July 2020: Toronto, ON
22 July 2020: Markham, ON
23 July 2020: Peterborough, ON
24 July 2020: Kingston, ON
25 July 2020: Ottawa, ON
26 July 2020: North Bay, ON
27 July 2020: Sudbury, ON
28 July 2020: Sault Ste. Marie, ON
29 July 2020: Traverse City, MI
30 July 2020: Grand Rapids, MI
31 July 2020: Kalamazoo, MI
1 August 2020: Flint, MI
2 August 2020: Detroit, MI
The following events have been cancelled due to the Corona pandemic!
2019
11 October 2019: LSU Circumcision Crisis Protest, LSU Student Union, Baton Rouge
12 October 2019: Monroe Circumcision Crisis Protest, McMillan Rd and Thomas Rd, Monroe
13 October 2019: Shreveport Circumcision Crisis Protest, E Texas St and Benton Rd, Shreveport
14 October 2019: Tyler Circumcision Crisis Protest, E Southeast Loop 323 and Troup Hwy, Tyler
15 October 2019: Denton Circumcision Crisis Protest, W University Dr and N Carroll Blvd, Denton
16 October 2019: University of Oklahoma Circumcision Crisis Protest, Bizzell Memorial Library, Norman
17 October 2019: Oklahoma State University Circumcision Crisis Protest, Oklahoma State University Student Union, Stillwater
18 October 2019: University of Arkansas Circumcision Crisis Protest, Arkansas Union, Fayetteville
19 October 2019: Fort Smith Circumcision Crisis Protest, S Waldron Rd and Rogers Ave, Fort Smith
20 October 2019: Conway Circumcision Crisis Protest, Old Morrilton Hwy and Harkrider St, Conway
21 October 2019: Jonesboro Circumcision Crisis Protest, E Highland Dr and Stadium Blvd, Jonesboro
22 October 2019: University of Memphis Circumcision Crisis Protest, Student Activities Plaza, Memphis
23 October 2019: University of Mississippi Circumcision Crisis Protest, Ole Miss Student Union, Mississippi University
24 October 2019: Mississippi State University Circumcision Crisis Protest, Mississippi State University Drill Field, Starkville
25 October 2019: Hattiesburg Circumcision Crisis Protest, US 49 and Hardy St, Hattiesburg
26 October 2019: 2019 AAP Circumcision Crisis Protest 1.0, New Orleans Ernest N. Morial Convention Center, New Orleans
27 October 2019: 2019 AAP Circumcision Crisis Protest 2.0, New Orleans Ernest N. Morial Convention Center, New Orleans
26 April 2019: St. Charles, MO
27 April 2019: Peoria, IL
28 April 2019: Indianapolis, IN
29 April 2019: Dayton, OH
30 April 2019: Hamilton, OH
1 May 2019: Lexington, KY
2 May 2019: Louisville, KY
3 May 2019: Bowling Green, KY
4 May 2019: ACOG Day 1, Nashville, TN
5 May 2019: ACOG Day 2, Nashville, TN
6 May 2019: Clarksville, TN
7 May 2019: Evansville, IN
8 May 2019: Cape Girardeau, MO
9 May 2019: Carbondale, IL
10 May 2019: Fairview Heights, IL
11 May 2019: St. Louis, MO
1 February 2019, 2019 Super Bowl Circumcision Protest 1.0
2 February 2019, 2019 Super Bowl Circumcision Protest 2.0
3 February 2019, 2019 Super Bowl Circumcision Protest 3.0
4 February 2019, Roswell Circumcision Crisis Protest
5 February 2019, Athens Circumcision Crisis Protests
6 February 2019, Augusta Circumcision Crisis Protest
7 February 2019, Statesboro Circumcision Crisis Protest
8 February 2019, Brunswick Circumcision Crisis Protest
9 February 2019, Valdosta Circumcision Crisis Protest
10 February 2019, Albany Circumcision Crisis Protest
11 February 2019, Columbus Circumcision Crisis Protest
12 February 2019, Macon Circumcision Crisis Protest
Southern Universities Circumcision Crisis Protests
11 October 2019: Baton Rouge, LA
12 October 2019: Monroe, LA
13 October 2019: Shreveport, LA
14 October 2019: Tyler, TX
15 October 2019: Denton, TX
16 October 2019: Norman, OK
17 October 2019: Stillwater, OK
18 October 2019: Fayetteville, AR
19 October 2019: Fort Smith, AR
20 October 2019: Conway, AR
21 October 2019: Jonesboro, AR
22 October 2019: Memphis, TN
23 October 2019: Oxford, MS
24 October 2019: Starkville, MS
25 October 2019: Hattiesburg, MS
26 October 2019: New Orleans, LA
27 October 2019: New Orleans, LA
Rocky Mountain Circumcision Crisis Protests
12 July 2019: West Jordan, UT
13 July 2019: Orem, UT
14 July 2019: Grand Junction, CO
15 July 2019: Denver, CO
16 July 2019: Denver, CO
17 July 2019: Colorado Springs, CO
18 July 2019: Pueblo, CO
19 July 2019: Denver, CO
20 July 2019: Fort Collins, CO
21 July 2019: Cheyenne, WY
22 July 2019: Casper, WY
23 July 2019: Gillette, WY
24 July 2019: Billings, MT
25 July 2019: Great Falls, MT
26 July 2019: Helena, MT
27 July 2019: Idaho Falls, ID
28 July 2019: Pocatello, ID
29 July 2019: Logan, UT
30 July 2019: Ogden, UT
31 July 2019: Salt Lake City, UT
Bloodstained Men at 2019 SF Pride
29 July 2019: San Francisco, CA
30 July 2019: San Francisco, CA
California Democratic Convention Circumcision Crisis Protest
1 June 2019: San Francisco, CA
2019 Heartland Circumcision Crisis Protests
26 April 2019: St. Charles, MO
27 April 2019: Peoria, IL
28 April 2019: Indianapolis, IN
29 April 2019: Dayton, OH
30 April 2019: Hamilton, OH
1 May 2019: Lexington, KY
2 May 2019: Louisville, KY
3 May 2019: Bowling Green, KY
4 May 2019: Nashville, TN (ACOG)
5 May 2019: Nashville, TN (ACOG)
6 May 2019: Clarksville, TN
7 May 2019: Evansville, IN
8 May 2019: Cape Girardeau, MO
9 May 2019: Carbondale, IL
10 May 2019: Fairview Heights, IL
11 May 2019: St. Louis, MO
Georgia Circumcision Crisis Protests
4 February 2019: Roswell, GA
5 February 2019: Athens, GA
6 February 2019: Augusta, GA
7 February 2019: Statesboro, GA
8 February 2019: Brunswick, GA
9 February 2019: Valdosta, GA
10 February 2019: Albany, GA
11 February 2019: Columbus, GA
12 February 2019: Macon, GA
2019 Super Bowl Circumcision Protests
1 February 2019: Atlanta, GA
2 February 2019: Atlanta, GA
3 February 2019: Atlanta, GA
2018
Bay Area Circumcision Crisis Protests
15 December 2018: San Francisco, CA
16 December 2018: San Francisco, CA
21 October 2018: Houston, TX
22 October 2018: Victoria, TX
22 October 2018: McAllen, TX
22 October 2018: Brownsville, TX
22 October 2018: Corpus Christi, TX
22 October 2018: Galveston, TX
22 October 2018: Beaumont, TX
22 October 2018: Baton Rouge, LA
22 October 2018: New Orleans, LA
22 October 2018: Gulfport, MS
22 October 2018: Pensacola, FL
1 November 2018: Tallahassee, FL
2 November 2018: Spring Hill, FL
3 November 2018: Orlando, FL (AAP)
4 November 2018: Orlando, FL (AAP)
5 November 2018: Gainesville, FL
6 November 2018: Lake City, FL
7 November 2018: Destin, FL
8 November 2018: Mobile, AL
9 November 2018: Slidell, LA
10 November 2018: Lafayette, LA
11 November 2018: Houston, TX
Vancouver, BC, Circumcision Crisis Protests
11 September 2018: Vancouver, BC
12 September 2018: Vancouver, BC
13 September 2018: Vancouver, BC
20 July 2018: Wilmington, DE
21 July 2018: Atlantic City, NJ
22 July 2018: Toms River, NJ
23 July 2018: Brooklyn, NY
24 July 2018: Nassau County, NY
25 July 2018: Suffolk County, NY
26 July 2018: Queens, NY
27 July 2018: Bronx, NY
28 July 2018: Springfield, MA
29 July 2018: Worcester, MA
30 July 2018: Manchester, NH
31 July 2018: Auburn, ME
1 July 2018: Bangor, ME
2 July 2018: Dover, NH
3 July 2018: Boston, MA
4 July 2018: Cape Cod, MA
5 July 2018: Newport, RI
6 July 2018: Hartford, CT
7 July 2018: Stamford, CT
8 July 2018: Newark, NJ
9 July 2018: Philadelphia, PA
2018 SF Pride Weekend with BAI
23 June 2018: San Francisco, CA
24 June 2018: San Francisco, CA
American Nurse-Midwives Circumcision Crisis Protest
20 May 2018: Savannah, GA
2018 ACOG Circumcision Protests
28 July 2018: Austin, TX
29 July 2018: Austin, TX
24 March 2018: Charlotte, NC
25 March 2018: Rock Hill, SC
26 March 2018: Columbia, SC
27 March 2018: Charleston, SC
28 March 2018: Myrtle Beach, SC
29 March 2018: Florence, SC
30 March 2018: Fayetteville, NC
31 March 2018: Wilmington, NC
1 April 2018: Jacksonville, NC
2 April 2018: Greenville, NC
3 April 2018: Raleigh, NC
4 April 2018: Chapel Hill, NC
5 April 2018: Durham, NC
6 April 2018: Greensboro, NC
7 April 2018: Asheville, NC
8 April 2018: Greenville, SC
9 April 2018: Spartanburg, SC
10 April 2018: Charlotte, NC
2017
12 October 2017: Chula Vista
13 October 2017: Temecula
14 October 2017: Anaheim
15 October 2017: Costa Mesa
16 October 2017: Redondo Beach
17 October 2017: USC
18 October 2017: UCLA
19 October 2017: Hollywood
20 October 2017: Santa Clarita
21 October 2017: Oxnard
22 October 2017: Santa Barbara
23 October 2017: Santa Maria
24 October 2017: Bakersfield
25 October 2017: Palmdale
26 October 2017: Victorville
27 October 2017: Riverside
28 October 2017: Palm Springs
29 October 2017: Fontana
30 October 2017: San Diego
2017 AAP Convention Protests
16 September 2017: Chicago, IL
17 September 2017: Chicago, IL
25 July 2017: Minneapolis, MN
26 July 2017: Rochester, MN
27 July 2017: Cedar Rapids, IA
28 July 2017: Des Moines, IA
29 July 2017: Omaha, NE
30 July 2017: Lincoln, NE
31 July 2017: Sioux City, IA
1 August 2017: Sioux Falls, SD
2 August 2017: Rapid City, SD
3 August 2017: Dickinson, ND
4 August 2017: Bismarck, ND
5 August 2017: Minot, ND
6 August 2017: Grand Forks, ND
7 August 2017: Fargo, ND
8 August 2017: St. Cloud, MN
9 August 2017: Duluth, MN
10 August 2017: Minneapolis, MN
Bloodstained Men at SF Pride 2017
23 June 2017: Walnut Creek, CA
24 June 2017: San Francisco, CA
25 June 2017: San Francisco, CA
2017 ACOG Circumcision Protests
6 May 2017: San Diego, CA
7 May 2017: San Diego, CA
23 February 2017: Miami
24 February 2017: Fort Lauderdale
25 February 2017: Fort Myers
26 February 2017: Bradenton
27 February 2017: St. Petersburg
28 February 2017: Tampa
1 March 2017: Ocala
2 March 2017: Gainesville
3 March 2017: Panama City
4 March 2017: Pensacola
5 March 2017: Tallahassee
6 March 2017: Jacksonville
7 March 2017: Daytona Beach
8 March 2017: Orlando
9 March 2017: Orlando
10 March 2017: Cocoa Beach
11 March 2017: West Palm Beach
12 March 2017: Boca Raton
13 March 2017: Miami
2017 Super Bowl Circumcision Protests
3 February 2017: Houston, TX (Super Bowl)
4 February 2017: Houston, TX (Super Bowl)
5 February 2017: Houston, TX (Super Bowl)
2016
2016 AAP Convention Protests
23 October 2016: San Francisco, CA
24 October 2016: San Francisco, CA
25 October 2016: San Francisco, CA
27 September 2016: Chicago, IL
28 September 2016: Fort Wayne, IN
29 September 2016: Detroit, MI
30 September 2016: Cleveland, OH
1 October 2016: Buffalo, NY
2 October 2016: Rochester, NY
3 October 2016: Binghamton, NY
4 October 2016: NYC
5 October 2016: NYC
6 October 2016: Philadelphia, PA
7 October 2016: Harrisburg, PA
8 October 2016: Pittsburgh, PA
9 October 2016: Columbus, OH
10 October 2016: Cincinnati, OH
11 October 2016: Indianapolis, IN
12 October 2016: Urbana / Champaign, IL
13 October 2016: Chicago, IL
UC Berkeley Circumcision Crisis Protest
31 August 2016: Berkeley, CA
Great Northwest Circumcision Crisis Protests
13 July 2016: Bellingham, WA
14 July 2016: Seattle, WA
15 July 2016: Yakima, WA
16 July 2016: Spokane, WA
17 July 2016: Missoula, MT
18 July 2016: Bozeman, MT
19 July 2016: Idaho Falls, ID
20 July 2016: Twin Falls, ID
21 July 2016: Boise, ID
22 July 2016: Bend, OR
23 July 2016: Salem, OR
24 July 2016: Portland, OR
25 July 2016: Portland, OR
26 July 2016: Tacoma, WA
27 July 2016: Seattle, WA
Bloodstained Men at SF Pride 2016
24 June 2016: San Francisco, CA (TBA)
25 June 2016: San Francisco, CA (TBA)
26 June 2016: San Francisco, CA (TBA)
5 May 2016: Hagerstown, MD
6 May 2016: Morgantown, WV
7 May 2016: Charleston, WV
8 May 2016: Roanoke, VA
9 May 2016: Richmond, VA
10 May 2016: Virginia Beach, VA
11 May 2016: Salisbury, MD
12 May 2016: Baltimore, MD
13 May 2016: Washington, DC
14 May 2016: Washington, DC
15 May 2016: Washington, DC
16 May 2016: Washington, DC
17 May 2016: Washington, DC
2 April 2016: Dallas, TX
3 April 2016: Shreveport, LA
4 April 2016: Jackson, MS
5 April 2016: Memphis, TN
6 April 2016: Little Rock, AR
7 April 2016: Springfield, MO
8 April 2016: Tulsa, OK
9 April 2016: Oklahoma City, OK
19 April 2016: Fort Worth, TX
11 April 2016: Houston, TX
12 April 2016: San Antonio, TX
13 April 2016: Austin, TX
14 April 2016: Austin, TX
Super Bowl 50 Circumcision Crisis Protest
6 February 2016: San Francisco, CA
7 February 2016: Santa Clara, CA
2015
Central Valley Circumcision Crisis Protests
21 November 2015: Visalia, CA
22 November 2015: Fresno, CA
2015 AAP Convention Protest
24 October 2015: Washington DC
25 October 2015: Washington DC
26 October 2015: Washington DC
27 October 2015: Washington DC
22 September 2015: Times Square, NYC
23 September 2015: Princeton, NJ
24 September 2015: Philadelphia, PA
25 September 2015: Philadelphia, PA
26 September 2015: Scranton, PA
27 September 2015: Albany, NY
28 September 2015: Burlington, VT
29 September 2015: Portland, ME
30 September 2015: Cambridge, MA
1 October 2015: Boston, MA
2 October 2015: Providence, RI
3 October 2015: New Haven, CT
4 October 2015: Union Square, NYC
5 October 2015: Jersey City, NJ
Wild West Circumcision Crisis Protests
15 August 2015: South Lake Tahoe
16 August 2015: Sacramento
Bloodstained Men Return to Santa Cruz
18 July 2015: Santa Cruz
19 July 2015: Santa Cruz
6 May 2015: St. Louis
7 May 2015: Kansas City
8 May 2015: Omaha
9 May 2015: Des Moines
10 May 2015: Minneapolis
11 May 2015: Mayo Clinic, Rochester
12 May 2015: Madison
13 May 2015: Milwaukee
14 May 2015: Chicago
15 May 2015: Grand Rapids
16 May 2015: Ann Arbor
17 May 2015: Columbus
18 May 2015: Cincinnati
19 May 2015: Indianapolis
20 May 2015: St. Louis
ACOG Annual Clinical Meeting Protest
2 May 2015: San Francisco (ACOG)
3 May 2015: San Francisco (ACOG)
Wine Country Circumcision Crisis
11 April 2015: Santa Rosa
12 April 2015: Petaluma
24 March 2015: Washington DC (Genital Integrity Awareness Week 2015)
25 March 2015: Washington DC (Genital Integrity Awareness Week 2015)
26 March 2015: Washington DC (Genital Integrity Awareness Week 2015)
27 March 2015: Washington DC (Genital Integrity Awareness Week 2015)
28 March 2015: Washington DC (Genital Integrity Awareness Week 2015)
29 March 2015: Washington DC (Genital Integrity Awareness Week 2015)
30 March 2015: Washington DC (Genital Integrity Awareness Week 2015)
Texas Circumcision Protests
10 March 2015: Dallas
11 March 2015: Houston
12 March 2015: Houston
13 March 2015: San Antonio
14 March 2015: Austin
15 March 2015: Fort Worth
No Federal Promotion of Genital Cutting
22 January 2015: Atlanta (CDC)
2014
27 December 2017: Nationwide
Circumcision Crisis Southeast Marathon
30 October 2014: Chattanooga
31 October 2014: Nashville
1 November 2014: Knoxville & Asheville
2 November 2014: Charlotte
3 November 2014: Columbia
4 November 2014: Atlanta
5 November 2014: Savannah
6 November 2014: Jacksonville
7 November 2014: Tallahassee
8 November 2014: Tuscaloosa
9 November 2014: Birmingham
10 November 2014: Atlanta
11 October 2014: San Diego (AAP)
12 October 2014: San Diego (AAP)
13 October 2014: San Diego (AAP)
14 October 2014: San Diego (AAP)
Circumcision Crisis Upper Midwest Marathon
12 September 2014: Lansing
13 September 2014: Royal Oak
14 September 2014: Cleveland
15 September 2014: Buffalo
16 September 2014: Pittsburgh
17 September 2014: Columbus
18 September 2014: Toledo
Sierra Nevada Mountain Circumcision Crisis
16 August 2014: South Lake Tahoe
17 August 2014: Reno
Rocky Mountain Circumcision Protests
27 July 2014: Denver
28 July 2014: Denver
International Symposium on Genital Autonomy and Children's Rights
22 July 2014: Denver
23 July 2014: Denver
Pacific Northwest Circumcision Protests
7 July 2014: Portland
8 July 2014: Seattle
9 July 2014: Seattle
10 July 2014: Portland
Genital Integrity Awareness Week
26 May 2014: Washington DC (GIAW 2014)
27 May 2014: Washington DC (GIAW 2014)
28 May 2014: Washington DC (GIAW 2014)
29 May 2014: Washington DC (GIAW 2014)
30 May 2014: Washington DC (GIAW 2014)
Circumcision Crisis Southwest Marathon
27 February 2014: Los Angeles
26 February 2014: San Diego
25 February 2014: San Diego
24 February 2014: Tucson
23 February 2014: Phoenix
22 February 2014: Las Vegas
21 February 2014: Los Angeles
2013
Circumcision Crisis Northeast Marathon
16 November 2013: NYC
17 November 2013: Providence
18 November 2013: Boston
19 November 2013: Hartford
20 November 2013: Trenton
21 November 2013: Baltimore
22 November 2013: Philadelphia
23 November 2013: NYC
24 November 2013: NYC
25 November 2013: NYC
Circumcision Crisis Midwest Marathon
30 September 2013: Springfield, IL
1 October 2013: St. Louis
2 October 2013: Louisville
3 October 2013: Cincinnati
4 October 2013: Indianapolis
5 October 2013: Chicago
6 October 2013: Iowa City
External links