James Calvert Spence
Jump to navigation
Jump to search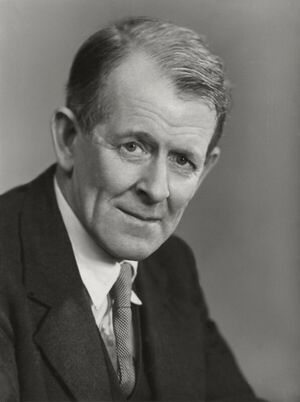 Professor Sir James Calvert Spence, M.C., M.D.[a 1], DSc[a 2], FRCP[a 3], (19 March 1892 in Amble, Northumberland, United Kingdom – 26 May 1954) was a prominent British paediatrician in the early twentieth century.
Spence was a founding member of the British Paediatric Association (later known as the Royal College of Paediatrics and Child Health) in 1928.
He established his practice at Newcastle upon Tyne where he developed an interest in social paediatrics, which included interests in support for breastfeeding[1] and in providing adequate nutrition to children in poor families,[2] as the British nation entered World War II and shortages of food multiplied.
Douglas Gairdner joined him in 1945 as his first assistant and stayed until 1948 during which time Spence served as a mentor to the younger Gairdner. Spence urged Gairdner to write a review of infant circumcision, which was published in the British Medical Journal on Christmas Eve, 1949.[3]
Honours
His Majesty, King George VI, recognised his contributions with a knighthood in 1950.[4]
The British Paediatric Association created the James Spence Medal, which is awarded annually since 1960 for "outstanding contributions to the advancement or clarification of paediatric knowledge."[5]
The James Calvert Spence College in Amble, Northumberland, actually a co-educational secondary school, was named in his honour.
Death
Spence had an extended illness which led to his death at age 62 on 26 May 1954.[6]
External links
Abbreviations
↑ Doctor of Medicine, Wikipedia. Retrieved 14 June 2021. In the United Kingdom, Ireland and some Commonwealth countries, the abbreviation MD is common.
↑ Doctor of Science, Wikipedia. Retrieved 14 October 2021. (Latin: scientiae doctor, usually abbreviated Sc.D., D.Sc., S.D., or D.S.)
↑ Fellow of the Royal College of Physicians, Wikipedia. Retrieved 13 January 2021.
References
↑ Spence JC. The modern decline of breastfeeding. Br Med J. 8 October 1938; 2(4057): 729-33. PMID. DOI. Retrieved 26 March 2023.
↑ Spence JC. The Feeding of Children. Br Med J. 20 July 1940; 4159: 93-5. PMID. PMC. DOI. Retrieved 26 March 2023.
↑ Gairdner DMT. The fate of the foreskin: a study of circumcision. British Medical Journal. 1949; 2(4642): 1433-7. PMID. PMC. DOI. Retrieved 28 October 2019.
↑ 1950 birthday Honours, Wikipedia. Retrieved 28 March 2023.
↑ The James Spence Medal. Archives of Disease in Childhood. 1977; 52(2): 85–86. PMC. DOI. Retrieved 27 March 2023.
↑ Anonymous. Sir James Spence obituary. Indian Journal of Pediatrics. July 1954; 21: 193. Retrieved 27 March 2023.