Shang Ring
Jump to navigation
Jump to search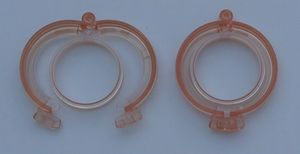 The Shang Ring is a disposable circumcision device which is currently marketed by Wuhu SNNDA Medical Treatment Appliance Technology Co Ltd, Wuhu, China, exploiting the WHO's endorsement of circumcision as an HIV prevention method.[1] It consists of two concentric plastic rings that sandwich the foreskin, allowing it to be cut away without suturing and with minimal bleeding. Performed in a clinic under local anesthesia, the procedure takes less than five minutes, compared with approximately 20 to 30 minutes for a traditional "free hands" circumcision that requires suturing. The patient returns in one week for device removal. "Circumcision with this technique promises to be faster, safer and more acceptable to patients than conventional surgical circumcision methods," says Dr. Marc Goldstein[2]
Inventors
The Shang Ring was invented by Mr. Jian-Zhong Shang, a Chinese inventor from Wuhu City.
Videos
See also
External links
References
↑ Safety and Efficacy of the PrePex Device for Rapid Scale-up of Male Circumcision for HIV Prevention in Resource-limited Settings, Medscape News Today: Scientific American. Retrieved 27 December 2012.
↑ The ShangRing Circumcision Device, medGadget. Retrieved 27 December 2012.