Seth Kalichman
Jump to navigation
Jump to search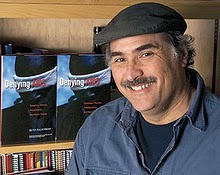 Seth Kalichman is a Clinical-Community Psychologist and Professor of Psychology at the University of Connecticut, and the editor of AIDS and Behavior, a leading social and behavioral science peer-reviewed journal.[1] Kalichman has published 5 peer-reviewed papers on circumcision and HIV.[2]
Quotes
Below, Kalichman promotes an outrageous human rights violation that is implausible and frightening.
"
Views on Male Circumcision
If every male

baby

in southern Africa were to receive MC we would see a huge reduction, dare I say near

elimination

, of HIV in a couple generations.[3]
The following is a bizarre response from Kalichman--most likely sarcasm, yet never the less disturbing--which could demonstrate a mental instability, or (minimally) at least a sign of unnerved breakdown. [This information needs a citation or reference.]
"
Downplaying Inherent Bias? Or Instability.
I am biased in my interpretation of 20 years of epidemiological research and three randomized controlled trials because I am Jewish. It is the medical establishment, run by Jews, that is conspiring to promote male circumcision for HIV prevention. It is no coincidence that the leading circumcision researcher is named Moses. Yes, I want every male child circumcised because that will make them Jews and we can take over the world, not just the Liberal Media and banks. Now that I am talking Crazy, do you understand me better?


– Kalichman, S.

[4]
References