Voluntary Medical Male Circumcision
Jump to navigation
Jump to search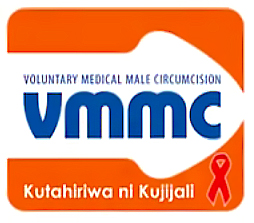 The Government of Kenya (GOK) through the support of the Ministry of Public Health and Sanitation (MOPHS), the National AIDS and STIs Control Programme (NASCOP) and Department of Health Promotion, as well as C-Change, CDC, FHI, PSI, UNICEF and the implementing partners (NRHS, IRDO, FACES , APHIA II Nyanza Program and the CMMB) have launched a Voluntary Medical Male Circumcision (VMMC) program in Kenya.[1]
Funding
VMMC is funded by USAID and C-Change.
Circumcision campaign propaganda by VMMC
Three circumcision propaganda ads (by the VMMC) aired in South Africa during football prime-time viewing.
"
Newly circumcised male encouraging man to get circumcised
I think they should get circumcised (VMMC)[2]
"
Woman encouraging man to get circumcised
it protects your balls (VMMC)[3]
"
Newly circumcised male encouraging man to get circumcised
It makes you strong (VMMC)[4]
"
Woman encouraging man to get circumcised
Once your foreskin is tough... your skin doesn't bruise easily (VMMC)[5]
"
Woman encouraging man to get circumcised
washing your penis becomes so easy (VMMC)[6]
"
Woman encouraging man to get circumcised
once it gets to half-time, you also get a cut [get circumcised] (VMMC)[7]
"
Woman discouraging man from getting tested
"Let me ask you, you have to get tested?" The female character responds "It's not a must." (VMMC)[8]
"
Woman encouraging man to get circumcised
Use a condom. All the time. ALL THE TIME! (VMMC)[9]
"
Newly circumcised male encouraging man to get circumcised
You are a man. Not a dog. (VMMC)[10]
A YouTube video with short video vignettes with a soccer theme that was field tested in communal video houses in Nyanza, Kenya during the 2010 World Cup Soccer broadcasts, has been removed from the web already.[11] But the FIFA website still shows information and video material about Kenyan campaigns for motivating the youth to "make the cut" through football messages.[12]
Inflated male circumcision data
In 2021, a fact-checking study by the US CDC has confirmed as false previous data claiming ridiculously high male circumcision rates in Kenya's HIV control programme. The report published on Thursday (July 15, 2021) in the journal Plos One says the fact-checking had been provoked by conflicting reports of huge success and yet persistent high demand suggesting a need for more funding. The 2018 report had claimed success rates of more than 100 per cent in Kisumu, Siaya, Homa Bay and Migori counties.[13]
Circumcision does not prevent HIV infection
Population-based studies
September 2021 saw the publication of two huge population studies on the relationship of circumcision and HIV infection:
Mayan et al. (2021) carried out a massive empirical study of the male population of the province of Ontario, Canada (569,950 males), of whom 203,588 (35.7%) were circumcised between 1991 and 2017. The study concluded that circumcision status is not related to risk of HIV infection.[14]
Morten Frisch & Jacob Simonsen (2021) carried out a large scale empirical population study in Denmark of 855,654 males regarding the alleged value of male circumcision in preventing HIV and other sexually transmitted infections in men. They found that circumcised men have a higher rate of STI and HIV infection overall than intact men.[15]
No association between lack of circumcision and risk of HIV infection was found by either study. There now is credible evidence that the massive, expensive African circumcision programs have not been effective in preventing HIV infection.
Two African surveys
The previously reported studies were from developed Western nations. Now we have information from Sub_Saharan Africa.
French scientist Michel Garenne, Ph.D. has published two reports in 2022 comparing the incidence of HIV infection in circumcised and intact men.
In his first report, Garenne presented the findings from a study in Lesotho, the enclave in South Africa. He reported:
In couple studies, the effect of circumcision and VMMC on HIV was not significant, with similar transmission from female to male and male to female. The study questions the amount of effort and money spent on VMMC in Lesotho.[16]
In his second report, Garenne (2022) presented information from six Sub-Saharan African nations (Eswatini, Lesotho, Malawi, Namibia, Zambia, Zimbabwe). He reported:
"Results matched earlier observations made in South Africa that circumcised and intact men had similar levels of HIV infection."[17]
See also
References