Decircumcision: Circumcision Practices & Foreskin Restoration Methods
Jump to navigation
Jump to search
Book Data

| | |
| --- | --- |
| Title | Decircumcision |
| Subtitle | Circumcision Practices & Foreskin Restoration Methods |
| Author | Gary M. Griffin |
| Pages | 112 |
| Edition | 1991 |
| Publisher | Added Dimensions Publishing (established in 1987 by Gary Griffin) |
| ISBN | 978-1879967052 |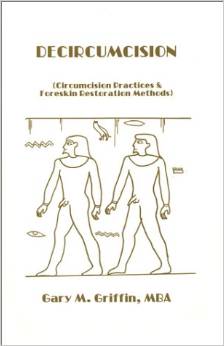 You CAN have a foreskin! Whether circumcised as an infant or an adult, this groundbreaking book shows how any male can restore his foreskin with this easy-to-follow method.
The step-by-step, fully illustrated instructions show you how to safely and effectively regenerate the foreskin to any length you desire, featuring:
Detailed description of various circumcision procedures
Female circumcision and circumcision practices in tribal societies
Greek and Roman infibulation practices
Why the English started circumcising their military men in the 18th century
The states and countries with the highest intact vs. circumcised rates
The truth about circumcision rates and STDs
Surgical foreskin restoration methods
Complete step-by-step methods for nonsurgical restoration
How to develop an overhang of any desired length
Special products that can be worn day and night to assist in foreskin elongation
Support groups for circumcised men and men undergoing foreskin restoration
Added Dimensions Publishing, established in 1987 by Gary Griffin, is dedicated to distributing the latest in male sexuality research in a clear, straightforward manner, with a dash of humor.
The response to Gary Griffin's first groundbreaking book, Penis Enlargement Methods was so enthusiastic that his readers asked for more, prompting research in other related areas. This eventually resulted in a complete catalog of thirteen books. The goal is to take the mystery and taboo out of male sexuality and to help every man by providing factual information about his body and its function. As the Executive Director of the American Academy of Phalloplasty Surgeons, Gary Griffin witnessed an amazing increase in interest in the subject of male sexuality that shows no signs of abating. We appreciate your business and hope you enjoy our books. We look forward to hearing your comments and ideas for other books.
About the Author
Many doctors refer to Gary Griffin as the Ralph Nader of penis enlargement. A staunch consumer advocate, he lets his readers know the truth about a variety of procedures and other practices. In the interest of benefiting the patient, Gary formed the Association of Phalloplasty Augmentation Surgeons to provide a forum for doctors to exchange information and network with each other. Nobody has networked with doctors and stayed on top of developments like Gary Griffin, and his books are highly recommended.
| | |
| --- | --- |
| " | American author of many books on the subject of penis size, including Penis Enlargement, The Horseman's Club, and The Legendary Endowment Project. A gay man based in Palm Springs, he was the co-editor of Penis Power Quarterly, an illustrated magazine on the subject. Gary M. Griffin was a pseudonym. He died of AIDS in 1996. (Astro Databank)[1] |
See also
External links
http://www.amazon.com/Decircumcision-Foreskin-Restoration-Circumcision-Practices/dp/1879967057
References