Foreballs
Jump to navigation
Jump to search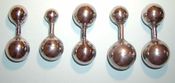 Foreballs
Foreballs consisted of two stainless steel bearings joined by a 1/4" diameter x 3/4" long stainless steel rod used as weights for foreskin restoration. The rod and welding added a bit to the overall weight. Foreballs required some loose skin or a foreskin in which to insert the smaller ball and to tape the tissue between them. Foreballs had to be removed to urinate.
The standard Foreballs set weighted about 7.5 oz (a 1" diameter ball and a 1-1/4" diameter ball). Some other popularly requested sets weighted about 10 oz (two 1-1/4" diameter balls); and another at about 12.5 oz (a 1-1/4" ball and a 1-1/2" ball).
As of December 2012, the Foreballs restoration device is no longer manufactured.
History
The foreballs device was invented in 1987 by the late R. Wayne Griffiths. The first version was made by "barrel" taping two balls together as is shown in The joy of uncircumcising, by Jim Bigelow, Ph.D.[a 1], as a homemade device. With ideas from fellow restorers at NORM meetings in San Francisco in the early 1990s, the tape was replaced by a rod welded between the two balls. At one of the meetings, someone suggested the name "foreballs."
On an interview for Chicago Reader (File:Fs09.pdf), Wayne Griffiths describes the invention of the foreballs: "I'm a practical guy. I work as a construction inspector, so I brought a practical methodology that may have been lacking. There was a book written in the early 80s called Foreskin Restoration by a man named Mark Waring, which I'm sure is a pseudonym. He'd recommended marbles."
Griffiths went to a supply house and bought some one-inch and one-and-a-quarter-inch stainless-steel ball bearings. Using two together, he made a barrel hitch out of tape, cut a hole in the end, and attached the device to the end of his penis every day.
See also
External links
Abbreviations
↑ Doctor of Philosophy, Wikipedia. Retrieved 16 June 2021. (Also abbreviated as D.Phil.)