Pre-ejaculate
Jump to navigation
Jump to search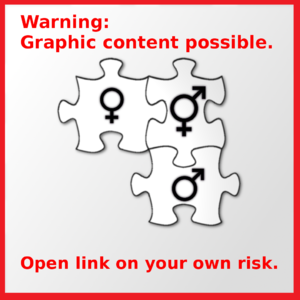 Pre-ejaculate (also known as pre-ejaculatory fluid, pre-seminal fluid or Cowper's fluid, and colloquially as pre-cum)[1] is a clear, colorless, very slippery liquid that is produced by the Cowper's glands. [2] and discharged from the urethra of males. It collects under the foreskin of normal, foreskinned males where it functions as a lubricant at times of sexual arousal, masturbation or sexual intercourse. They are also called the bulbo-urethral glands and are the male equivalent of the Bartholin's Glands.[1]
Function and risks
(The following text or part of it is quoted from the free Wikipedia article Pre-ejaculate: Function and risks:)
Pre-ejaculate neutralizes residual acidity in the urethra caused by urine, creating a more favorable environment for the passage of sperm.[3] The vagina is normally acidic, so the deposit of pre-ejaculate before the emission of semen may change the vaginal environment to promote sperm survival.[4] Pre-ejaculate also acts as a lubricant during sexual activity,[4] and plays a role in semen coagulation.[4]
Low levels or no sperm exists in pre-ejaculate, although studies examined small samples of men.[5][6] Two contrary studies found mixed evidence, including individual cases of a high sperm concentration.[7][8] Popular belief  — dating to a 1966 Masters and Johnson study[9]  — stated that pre-ejaculate may contain sperm that can cause pregnancy, which is a common basis of argument against the use of coitus interruptus (withdrawal) as a contraceptive method.[5][6]
Studies have demonstrated the presence of HIV in most pre-ejaculate samples from infected men.[6][10][11]
Distribution
The quantity of pre-ejaculate produced various widely between individuals. Production of pre-ejaculate may be triggered by erotic thoughts alone.
Some observers believe that, on average, circumcised males tend to produce less pre-ejaculate than foreskinned males, due to loss of sexual sensation received by the autonomic nervous system from the ridged band and other nerves of the foreskin.
See also
External links
Wikipedia article: Pre-ejaculate. Retrieved 10 January 2023.
Lane, S. Nicole (2 October 2022). What Is Precum?, Verywell Health. Retrieved 16 January 2023.
References
↑ a b (2005). Pre-ejaculate, Free Dictionary by Farlex. Retrieved 9 January 2023.
↑ (2005). Cowper's glands., Free Dictionary by Farlex. Retrieved 9 January 2023.
↑ Chughtai B, Sawas A, O'Malley RL, Naik RR, Ali Khan S, Pentyala S. A neglected gland: a review of Cowper's gland . Int J Androl. April 2005; 28(2): 74–7. PMID.
↑ a b c Chudnovsky A, Niederberger CS. Copious Pre-Ejaculation: Small Glands—Major Headaches. J Androl. 2007; 28(3): 374–5. PMID.
↑ a b Zukerman Z, Weiss DB, Orvieto R. Short Communication: Does Preejaculatory Penile Secretion Originating from Cowper's Gland Contain Sperm? . Journal of Assisted Reproduction and Genetics. April 2003; 20(4): 157–9. PMID. PMC.
↑ a b c Researchers find no sperm in pre-ejaculate fluid. Contraceptive Technology Update. October 1993; 14(10): 154–156. PMID.
↑ Killick SR, Leary C, Trussell J, Guthrie KA. Sperm content of pre-ejaculatory fluid. Human Fertility. 2011; 14(1): 48–52. PMID. PMC.
↑ Kovavisarach E, Lorthanawanich S, Muangsamran P. Presence of Sperm in Pre-Ejaculatory Fluid of Healthy Males . J Med Assoc Thai. 2016; 99 Suppl 2: S38–41. PMID.
↑ Masters WH (1966): Johnson, V.E.. Boston, MA: Little, Brown & Co. P. 211.
↑ Pudney J, Oneta M, Mayer K, Seage G, Anderson D. Pre-ejaculatory fluid as potential vector for sexual transmission of HIV-1. Lancet. 1992; 340(8833): 1470. PMID.